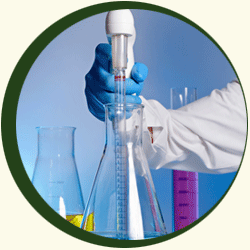 We are experts in the
development, standardization, validation and transfer of analytical methods for natural products
. Method development and validation services are important for a customer to understand all the difficulties associated with
natural product development
. We also deliver robust analytical methods that are either fully validated or validation-ready and easily transferable.
Testing and standardisation of herbal medicines
Standardization and Control of Herbal Actives.
Testing and Control of Impurities : Foreign matter, adulterants, Physico-Chemical analysis, Heavy Metals, Pesticides, Residual Solvents, Alfatoxins, Microbial limits, etc.
Isolation and purification of marker compounds.
Ingredient Standardization and Testing.
Formulation Standardization as per EMEA guidelines.
Battery of tests applied ranging from simple chemical assays to Chromatographic Analysis.
Method Development for Stability Studies and Pharmacokinetic Studies.
Trouble-shooting for Polyherbal Formulations.
Impurity profiling and characterization.
Accelerated Stability studies according to ICH and other regulatory requirements.
Preparation of Chemistry, Manufacturing and Controls (CMC) Dossier.
Bioanalytical Method Development.
Quantitative analysis of ingredients in the formulation without using marker compounds.
Nutritional analysis to label the food supplements.
Preservative testing in formulations.
The objective of the analytical procedure should be clearly understood since this will govern the validation characteristics which need to be evaluated. Typical validation characteristics which should be considered are listed below :
Accuracy
Precision
Repeatability
Intermediate Precision
Specificity
Detection Limit
Quantitation Limit
Linearity
Range