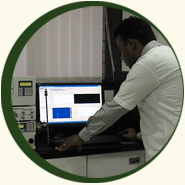 THS
has instituted a special division to cater the need of
herbal drug
requirements in academic institutes like Pharmacy colleges (For Pharmacognosy), Ayurvedic colleges (Dravyaguna) various other colleges which have herbal and botanical departments. We deal with complete range of requirement for these courses which comprises of crude/ayurvedic aushadhi, fixed oils, volatile oils, bhasmas, Medicinal Plant photographs, Pharmacognosy charts, teaching aid, etc.
THS, being the
herbal analytical laboratory, test's botanical/herbal/nutraceutical products
with widely accepted methods including those recommended by
Indian Pharmacopeia, Indian Herbal Pharmacopeia, United States Pharmacopeia (USP), Herbal Compendium, China Pharmacopoeia, or other professional scientific organizations
, or "in-House" methods to match your new discoveries of
herbs or herbal extracts.