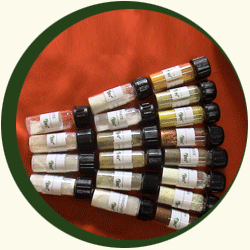 Phytoconstituents
are becoming more known for their properties of protecting the skin from ravages of environmental pollution, UV-A and UV-B radiation, weather, aging etc. These are present in
herbal extracts
and form the main constituents of herbal cosmetics. Various groups of phytoconstituents like,proteins, dyes, carbohydrates, tannin and many others supply nutrients essential for healthy skin or hair.
The most important function performed by the phytoconstituents with respect to skin is providing the antioxidant protection. An individualís skin is harmed by the external factors due to the oxidation effect. The external factors lead to production of free radicals, a reactive oxygen species which acts upon the fatty acids, protein in the body affecting the antioxidant system and producing oxidative damage.
Choosing chemical sunscreens to combat this damage is not a permanent solution due to their possible side effects like dermatitis, melanoma and skin cancers. This led to a clamour for natural alternatives and herbal extracts containing phytoconstituents with different uses. Some plant extracts containing different varieties of phytoconstituents and used for skin and haircare are:
Used for Skin
• Calendula: Calendula belongs to the daisy family Asteraceae and is used either in suspension form or tincture. It is applied topically and helps in treatment of acne, relaxing irritated tissue and controlling bleeding.
• Aloe Vera: This multi-faceted plant is commonly found in India and is a must include ingredient of every herbal skin remedy.
• Coconut oil: Coconut oil is obtained from the seed or fruit of the coconut palm tree. It is a most effective extract for moisturizing and softening of skin.
• Carrot: Belonging to the genus Apiaceae, this has high contents of Vitamin A and is a rich source of carotenoids. Carrot seed oil is used in anti-aging treatments and helps in rejuvenating and revitalizing the skin.
• Sunflower oil: This is a good source of carotenoids, tocopherols, waxes and lecithin and is used in herbal cosmetics on account of its noncomedogenic and smoothing properties.
• Green Tea: Green Tea ranks topmost in the list of skin protectants. The catechin content in green tea lends it antioxidant properties which has 20 times greater strength than vitamin E. It pays for every individual to keep this super shield against UV- Radiation always by their side.
• Ginkgo: Used in anti-aging treatments, ginkgo is widely known as a circulatory tonic and ensures greater oxygen flow to the brain and eyes. This extract has antioxidant properties and also protects the bodyís nervous system.
Used for Hair
• Amla: Amla has good quantities of tannins, vitamin C and minerals like iron, phosphorous, calcium which gives nutrition to hair besides enhancing the dark color of the hair.
• Brahmi: This herb in its entirety promotes hair growth and is an important ingredient of many herbal shampoos.
• Henna: Henna belongs to the family Lythraceae and has a natural tendency to combine with the proteins in our hair and is often used as a conditioner.
• Neem: Commonly used as a skin cleanser, beauty enhancer, blood purifier this herb has several medicinal uses.
The above are just a few of the vast reservoir of plant extracts that are used for protection and enhancement of your skin and hair.