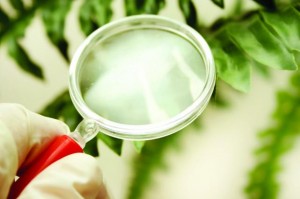 Correct identification of herbs assumes great significance in growth of an industry based on safe use of top quality herbal products. It is very crucial for laboratory technicians in the dietary supplement and herbal drug industry. Its importance is also recognized by botanists, researchers, collectors of medicinal plants and students in related fields.
What do you mean by 'herbal drugs'?
'Herbal drugs' refer to unprocessed plants or parts of plants used for medicinal purposes either in entirety or crushed state, occasionally in fresh form but most often in the dried mode. The plants may be purposefully cultivated or also obtained from wild habitats. These plants which are raw products of the herbal industry vary in their properties and composition depending upon the geographical and climatic conditions of regions where they are grown.
What is the need for correct identification of herbs?
The chemically defined components of the plants responsible for therapeutic properties may not be necessarily always known and hence, markers are used to characterize the drug. Defining the plant species in clear terms is very much essential. The possibility of confusion on the part of personnel, collecting plants, especially from wild habitats cannot be ruled out and this can lead to adulteration with similar looking toxic plants. This poses great risks in maintaining quality standards of the herbal drug.
Facts about adulteration, contamination and misidentification of herbal products are well-known and besides its adverse impacts on human health, the credibility of the industry is also drastically affected. The concern among consumers about possible health hazards of such products which are widely reported by the media is most natural. The growing awareness among the public for the need of greater safety, purity and contributive habitats has brought the issue of botanical identification to the fore front. Accurate identification of herbs is fundamental to enhance the safety quotient in use of herbal products. The starting point for ensuring safety is in fact, proper identification.
How to initiate process of herbal plant identification?
Proper plant authentication should begin at the stage of producers and wild cultivators of medicinal herbs.  If there is accurate identification at this stage then it will benefit the producers of herbal medicine products. They will have an assured supply of correctly identified raw plants for use in their production process. It is essential for the producers, in fact, to demand accurate plant identification from the cultivators and also reward them for the same. The importance of accurate plant identification cannot be undermined by the manufacturers as they would be the greatest losers in case misidentification of herbs leads to product adulteration.
What are methods of plant identification?
Some of the methods used for identification of herbal plants are:
Macroscopic identification
A dissecting microscope or hand lens can be used to describe the morphological distinctiveness of the plant or sensory factors such as taste, odor and color can be used for authenticating plant identity. This information which is essential for proper plant identification should be made available to a large audience.
Dissemination of information
The work of enlightening the concerned people is done by various organizations through dissemination of science-based and traditional information which enhance the conscientious use of herbal medicines. Organization of seminars and workshops, making available various books and literature, holding internships for professionals in health care industry are some other means to provide knowledge to the people.
Summarizing
The importance of herbal plant identification has been realized by one and all. There is much focus on efforts to build a framework for authentication of plants, to which new data will be added as and when made available. This ongoing process can be termed as a 'living' practice which will keep evolving over times.